Guitar Hero Fan? Maybe like the games DDR or American Idol?
I have had the liberty of trying a new game that comes out November 20
th
, 2007 for the Xbox360 and PS3. I am a big fan of rhythm games, I've played DDR, and Guitar Hero. I also played the audition game that Nexon hosts but i fund it kind of annoying to play, that game takes more speed than rhythm to play, but back to the topic.
As far as Guitar Hero(1) goes you have a simple Multi-player guitar challenge and about 4 out of 5 songs in the game I knew but didn't really care for. I liked about 2 out of 5 songs.
I haven't had a chance to play 2, 3, or 80's I heard that 2 has a better co-op mode I demoed 3 but the demo's are vary limited.
As for Rock Band it takes everything we love about Guitar Hero, and the Idol game adds a drummer and you have a full Band (Singer, Guitar, Bass, Drums) you get bonus points for keeping sync with other players. The interesting is this is the one game that is fully co-op. You have to play well with the rest of your band if one of your band members fail you lose the level (if your players performance is higher than a set bar you can resurrect the boo'ed player and you will win savior points.) This game is vary creative there is drum/guitar solos and a kick ass finisher where you have no set notes you just jam your guitar/drums however you want (you have to hit the final note to get the points for your jamming)
You don't need four players if one player is really good you can pull (what I'm going to call) a Green Day if you want to utilize the full band play and get the proper points. Where your going to have one player play guitar and sing, I'm a drummer so I'm not going to do it hell I already have half my band set (My Bud Keith will be guitar) I just need a singer and bassist now for the screen shots:
The Guitar:
RB Controller VS GH Controller
+1 RB: Adds smaller fret buttons near the high end (closer to the strum bar) to jam the finishes
+1 RB: A Switch to control the tone (Works only in RB)
+1 RB: A D-Pad for easier menu control
+1 RB: Better Design
+1 GH: Lighter
+1 GH: Strum Bar is easier to strum, tighter on the RB controller
Final: +2 RB Controller
The Drums:
Game Play: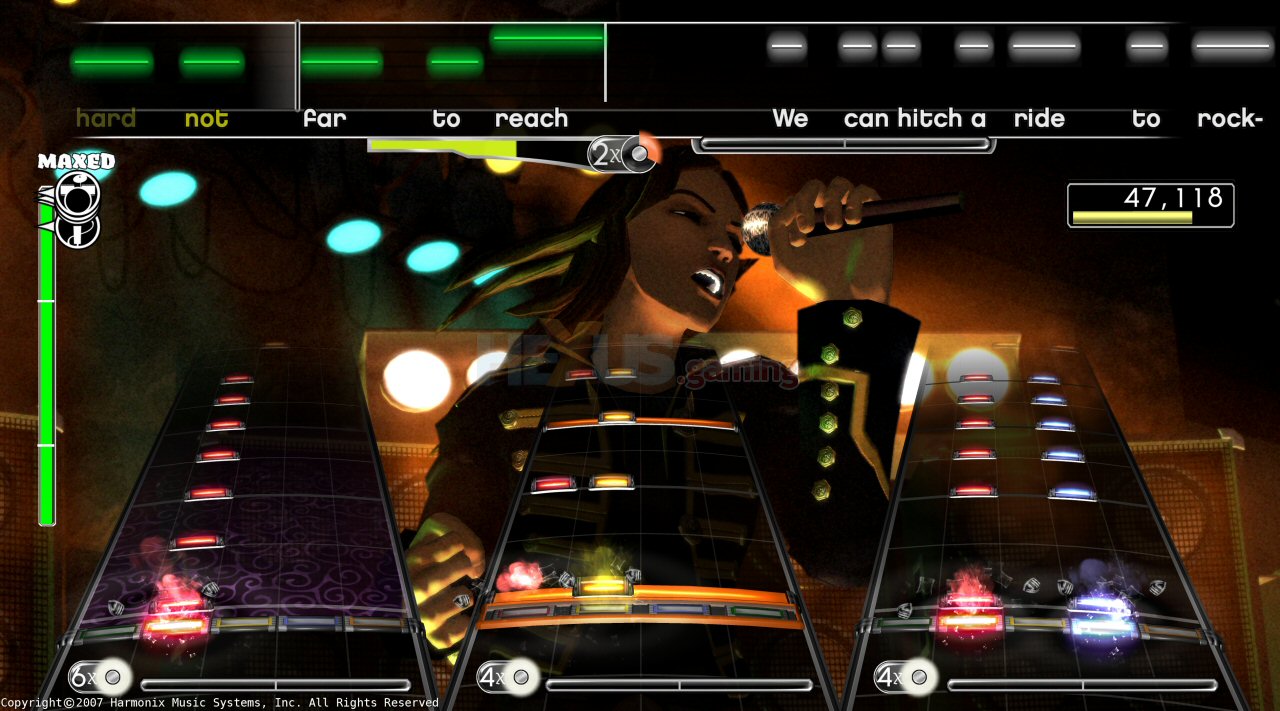 Top is the Singer. Left To Right: Lead Guitar, Drums, Bass
Game Info:
Setlist:
1960s
* Rolling Stones "Gimme Shelter"
1970s
* Aerosmith "Train Kept a Rollin'"*
* The Who "Won't Get Fooled Again"
* Boston "Foreplay/Long Time"
* Mountain "Mississippi Queen" (cover)
* The Police "Next to You"
* David Bowie "Suffragette City"
* Black Sabbath "Paranoid" (cover)
* Blue Oyster Cult "Don't Fear the Reaper"
* The Ramones "Blitzkrieg Bop"
* Deep Purple "Highway Star"
* KISS "Detroit Rock City"
* Molly Hatchet "Flirtin' With Disaster"
* The Outlaws "Green Grass & High Tides" (cover)
* Sweet "Ballroom Blitz" (cover)
1980s
* Rush "Tom Sawyer"*
* Bon Jovi "Wanted Dead or Alive"
* The Clash "Should I Stay or Should I Go"
* Faith No More "Epic"
* Pixies "Wave of Mutilation"
* R.E.M. "Orange Crush"
* Iron Maiden "Run to the Hills" (cover)
1990s
* Foo Fighters "Learn to Fly"
* Metallica "Enter Sandman"
* Nirvana "In Bloom"
* Stone Temple Pilots "Vasoline"
* Weezer "Say It Ain't So"
* Smashing Pumpkins "Cherub Rock"
* Radiohead "Creep"
* Beastie Boys "Sabotage"
* Hole "Celebrity Skin"
* Garbage "I Think I'm Paranoid"
* Soundgarden "Black Hole Sun"
2000s
* The Hives "Main Offender"
* Queens of the Stone Age "Go With the Flow"
* The Strokes "Reptilia"
* Jet "Are You Gonna Be My Girl"
* OK Go "Here It Goes Again"
* Nine Inch Nails "The Hand That Feeds"
* Yeah Yeah Yeahs "Maps"
* Red Hot Chili Peppers "Dani California"
* Coheed & Cambria "Welcome Home"
* Fallout Boy "Dead on Arrival"
* The Killers "When You Were Young"
* New Pornographers "Electric Version"
Unlockable Tracks
* Bang Camaro "Pleasure (Pleasure)"
* Twelve more yet to be revealed
Price List:
Xbox 306 & PS3 Release: November 20, 1007
PS2: December 11, 2007?
Game Alone: X360 & PS3: $59.99
Special edition Package: X360 & PS3: $169.99 | PS2: $159.99
Comes with Mic, Guitar, Drum-kit, and Game
The only downside to this game is all the controllers have wires ALL OF THEM !but their thin light and something like 15~20 feet long
Admin





Number of posts

: 16


Age

: 33


Location

: The House Behind My Mailbox


Registration date :

2007-10-20





Similar topics
---
Permissions in this forum:
You
cannot
reply to topics in this forum